Contact & Imprint
Contact
Prof. Dr. Reinhard Bernbeck: rbernbec@zedat.fu-berlin.de
Prof. Dr. Susan Pollock: spollock@zedat.fu-berlin.de
Institut für Vorderasiatische Archäologie, Fabeckstraße 23-25, 14195 Berlin
Responsible for content
according to § 10 Absatz 3 MDStV:
Freie Universität Berlin - Institut für Vorderasiatische Archäologie
Fabeckstraße 23-25, 14195 Berlin
Telephone: ++49 (0)30 838 57026
Liability Notice
Despite careful control of the contents, we do not assume any liability for the contents of external links. The operators of the linked sites are solely responsible for the content of their sites.
 
Data protection
We take the call for data economy very seriously. This site does not run any third-party plug-ins, and we do not record IP addresses to reveal the origin of our visitors. We do not store, process or use any other personal data on this website and are therefore in compliance with German and European data protection law (DSGVO).
Collection of access data and log files
We, respectively our hosting provider (datalino Berlin), raise on the basis of our legitimate interests in terms of article 6 paragraph 1 lit. f. DSGVO collects data about every access to the server on which this service is located (so-called server log files). The access data includes the name of the accessed website, file, date and time of access, transferred data volume, notification of successful access, browser type and version, the user's operating system, referrer URL (the previously visited site), IP address and the requesting provider.
For security reasons (e.g. to clarify misuse or fraud), log file information is stored for a maximum of 7 days and then deleted. Data whose further storage is required for evidential purposes is excluded from deletion until the respective incident has been finally clarified.
Publication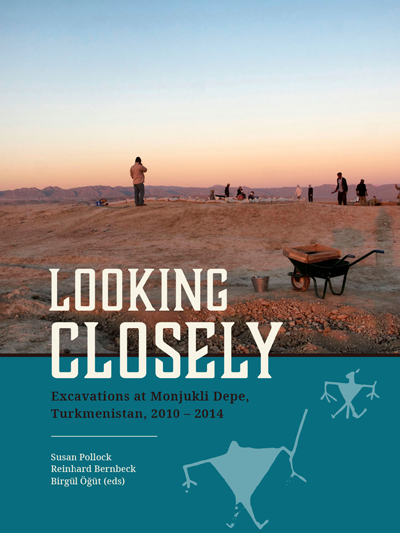 Looking Closely, Excavations at Monjukli Depe, Turkmenistan, 2010 – 2014, Edited by Susan Pollock, Reinhard Bernbeck & Birgül Öğüt 2019, Imprint: Sidestone Press.
for further publications in the Sidestone Press series on Monjukli Depe